Telling eyebrows, a travelled accent, manners to make a mother weep with joy, there are few bartenders, let alone people, with more personality than Tom Egerton. As the bar manager for Eau De Vie, a place known to be the 'absolute shit' when it comes to cocktails, Tom chats to media, smiles for the camera and generally donates his dapperness on the regular. As I make my way to the popular non-descript Darlinghurst bar, I'm adamant about finding out how Tom Egerton became the ultimate poster boy for the gentrified sipper.
It's a deceivingly cold Autumn evening, the type you expect in July in Sydney, but perfect for sitting in a dark bar and drinking yourself a jacket. Inside Eau De Vie there's already a couple bartenders from surrounding bars warming up for a shift, some businessmen not doing business and some dates in the corner warming up for something else.
Tom is darting around the bar fixing broken pipes and broken dreams. I already know he can make fancy drinks that light on fire and also taste delicious. I know he's well respected (five people have recommended him to me – the highest so far), but what I don't know is how he got here. How does someone become a Tom Egerton? How does the kid down at the corner pub pulling beers for a living turn into an internationally acclaimed bartender? And can everyone be a poster boy?
come from a hospitality dynasty
It's fair to say that Tom cheated. That's not really true, but believing it might
make you feel better. Because you see, Tom and his older brother Sam Egerton of Merivale, both come from a family of Hoteliers and pub owners, their older sister is also a major spirits purchaser for Selfridges in London. Tom actually started working in a pub at the age of 13, that's a whole 5 years before any normal beer slinger.
"Hospitality is essentially a family trade, both my grandparents were hoteliers. We're originally from New Zealand. In New Zealand you can legally work in a licensed premises under the age of 18 if you're accompanied by an adult. I worked under my brother and sister and started in the kitchen, until I eventually thought that was boring and transferred into the bar."
At the current age of 27 that gives Tom a total of 14 years in the biz.
The overachiever with ADHD
Now, I'm not a bartender but even I feel slightly less accomplished when talking to Tom about his many and varied achievements. Having won three scholarships, worked in almost every international city as well as being banned from one and giving very little shits about them all – he's basically the Bieber of bartending. And the fact he relays his achievements so eloquently, with all his Thespian vitality, is just more salt to the wound.
"There were a few different times I went to university. I was given a couple of scholarships which is where I found I have an incredibly short attention span. One scholarship to study acting, one to study classic literature and one in London which I turned down. I flew around Europe doing stuff for a while then found my way to Dubai to set up a nightclub which spectacularly failed.
"I had to flee the country because I'm banned from there. Turns out a load of the unassigned debt was signed against the staffs names so when the CEO disappeared we suddenly realised we were liable."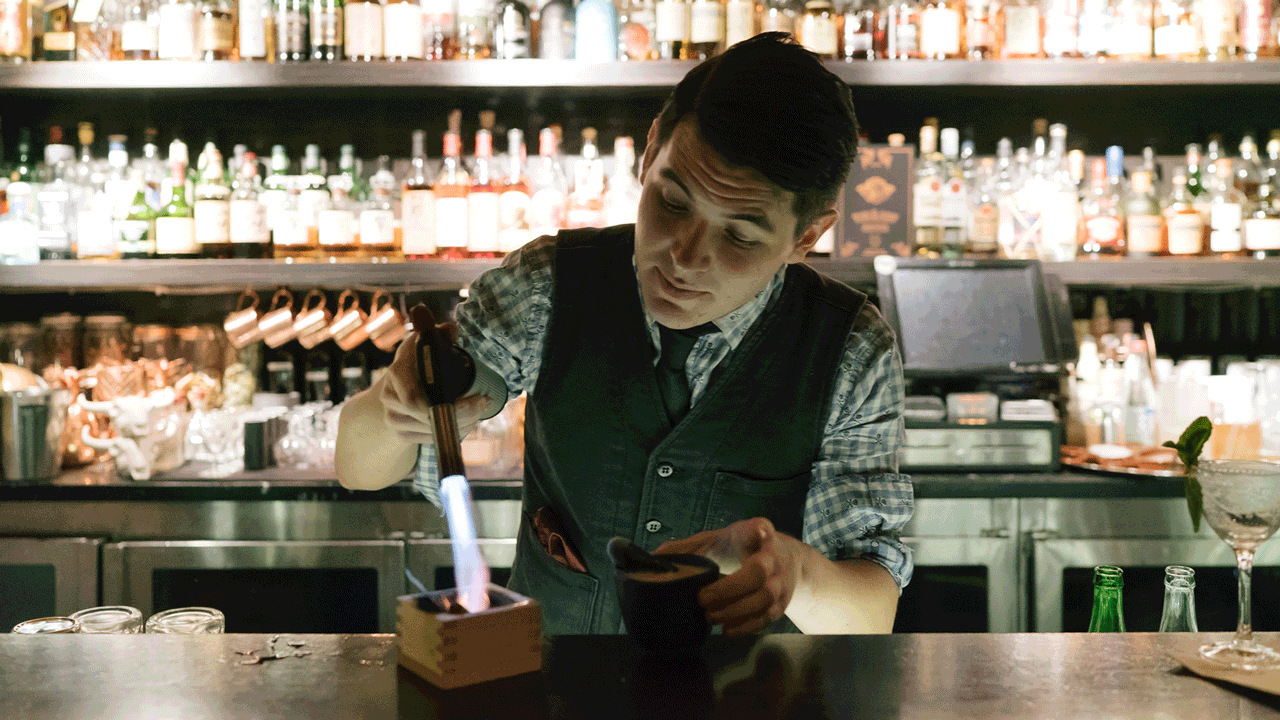 Eventually Tom found his way to Australia where he says it's the longest place he's stayed so far when it comes to bartending.
"The Aus hospitality industry is incredibly warm and welcoming and open. Great to be surrounded by such skilled bartenders and operators who are very willing to share their knowledge and information and their hearts and their home. Great city and country."
You can be a good bartender but can you be the best?
Fifteen years ago it was a mark of a good bartender that they could make a good balanced drink, and maybe you could only go to London or New York and get a good cocktail, but now it's expected that every bar you walk into, sit down and ask for a negroni, you'll get a well balanced negroni.
"I was in North Vietnam, in Hanoi a couple years ago in this tiny little bar and asked for a negroni. He makes me a perfectly balanced drink. So I ask him for dealers choice.
"He makes me this rum, Blue Curacao with White Pepper Tincture, fresh rockmelon drink. I didn't know if it was ironic or what but if somebody in a communist enclave right beside North Korea can make a well balanced negroni, then how does someone here in Sydney or London or New york differentiate yourself. When it's not just you and the guy down the road that make a good drink, it's everyone that can make a good drink.
"It's not just the drink you put in the glass, it's the service you provide, it's the experience as a whole. How do you make yourself different?"
The age of differentiation
When I sit down with Tom I feel like I could be in any city in the world, in any world class bar. When I ask for a glass of wine, he doesn't ask me what varietal, he gauges my mood, the time of night, before or after dinner, my flavour profile, then comes back with a perfectly suited glass of red.
"Obviously there's a big difference between the first competition I ever did and now. The road to it is essentially self taught. There's no degree you can set, there's no school. Because there's no central school and because a lot of the information is handed down from mouth to mouth you lose a lot of the truth behind great bartending or hospitality. It takes hard work and dedication, it takes hard graft of the person involved, it's not something you'll achieve
overnight.
"It's not something you get a certificate for and can suddenly tick a box. It takes years and years of work, trial and error. It's not just putting a drink in a glass."
Be the closer, not the tinder date
When I look around the room at Eau De Vie, I see people enjoying their drinks and satisfied with their company. Tom says being a great bartender is also about understanding not just how, but when to interact with customers.
"People come in and hand themselves over to us. They don't need to have an individual interaction with us. It's about working out how much interaction someone wants.
"If someone sits at a bar and wants to talk to you, then of course those people want to be talked to. It's about recognising that the couple over in the corner might not want to be interrupted every five seconds. It's not just the individual interaction the customer has with staff  but the interaction they have with each other.
"It's about being the curator of the experience, not a part of it."
So can everyone be a Tom Egerton? As the industry grows and its characters become notoriously linked to it, there is certainly more opportunity for it. And, while Tom Egerton may not be a 'self proclaimed poster boy' (I've done that for him), we're pretty sure he's up there for most people, and for the rest he's certainly one character they should most definitely meet.
Are you someone we should meet, or know someone that is? Follow Meet The People on Facebook and Instagram.